BCA Research's US Equity Portfolio construction service marries the macro with the micro and offers a unique equity sector allocation perspective, providing clients with a view that highlights sustainable trends.
Tools to forge your own view
Recommendations on 11 GICS1 sectors, 53 subsectors and size and style bias on a cyclical time horizon
Top-down macro models that support the U.S. equity sector recommendations
Client visits, conference calls and webcasts are part of the service and complement the daily and weekly publications
Innovative charts, presenting allocation advice, complement our unique, insightful and comprehensive U.S. sector analysis
Our philosophy is to forecast major trends by focusing on profits, allowing clients to capitalize on profit opportunities as well as preserve capital
USES leverages BCA Research's top-down macro research methodology and combines it with equity sector expertise. Our proprietary industry models and indicators underpin our investment recommendations
Our sector investment process includes three main inputs: sector earnings models, relative valuations and technical trends. The earnings models garner the most weight 60%, relative valuations 30% and relative technical conditions 10%
We do not live in a vacuum. Rather, we incorporate other BCA Research service views into our sector recommendation process like U.S. Bond and Commodity & Energy strategy views
Some of what we have called
2017 SPX 3000
On July 10, 2017, we predicted the SPX 3000, when the S&P 500 was trading close to 2400 and 14 months later the SPX hit 2940 just shy of our target.
2017 Overweight Software
We remain overweight this key tech sub index and are up 20% vs. the index since inception on November 27, 2017. This is a secular call on software as SAAS and cloud computing in general and AI are not a fad.
2018 Underweight Homebuilders
We added alpha to our portfolio to the tune of 24% vs. the index since inception as we correctly warned investors that higher interest rates, rising lumber costs and the change in the mortgage deductibility of interest would weigh heavily on the industry's earnings in 2018.
2018 Overweight Railroads
This call returned 15% vs. the index since inception as it correctly captured an earnings-led advance in this key transportation sub index.
Irene Tunkel
Chief Strategist
Irene is BCA Research's Chief Strategist, US Equity Strategy. In this role, Irene is responsible for offering quantitative and fundamental approaches to BCA's macroeconomic research. Prior to joining BCA Research, Irene served as senior macro strategist and portfolio manager at PGIM. Previously, she worked across buy-side and sell-side with leading asset managers including Prudential, JP Morgan, State Street and Citigroup Asset Management. Irene holds an MBA from MIT Sloan School of Management and a BA in Economics from Brandeis University. She also holds a CFA designation.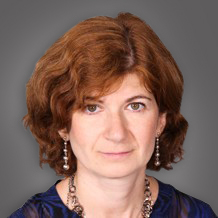 Our client website is updated daily and available whenever and wherever you are
Access our research on your desktop or apps for your tablet and smartphone.