Highlights
So What? U.S.-Iran risk is front-loaded, but U.S.-China is the greater risk overall.
In the medium-to-long run the trade war with China should reaccelerate while the U.S. should back away from war with Iran. But for now the opposite is happening.
A full-fledged cold war with China will put a cap on American political polarization, putting China at a disadvantage.
By contrast, a U.S. war with Iran would exacerbate polarization, giving China a huge strategic opportunity.
War with Iran or trade war escalation with China are both ultimately dollar bullish – even though tactically the dollar may fall.
Feature
Two significant geopolitical events occurred over the past week. First, U.S. President Donald Trump declared his third pause to the trade war with China. The terms of the truce are vague and indefinite, but it has given support to the equity rally temporarily.
Second, Iran edged past the limits on uranium stockpiling, uranium enrichment, and the Arak nuclear reactor imposed by the 2015 nuclear pact. Trump instigated this move by walking away from the pact and re-imposing oil sanctions.
If these events foreshadow things to come, global financial markets should position for lower odds of a deflationary trade shock and higher odds of an inflationary oil shock in the coming six-to-18 months. But is this conclusion warranted? Is the American "Pivot to Asia" about to shift into reverse?
If the White House pursued a consistent strategy to contain China, it would bring Americans together and require forming alliances.
In the short run, perhaps – but the conflict with China is ultimately the greater of the two geopolitical risks. We expect it to intensify again, likely in H2, but at latest by Q3 of 2020, ahead of the U.S. presidential election. Our highest conviction call on this matter, however, is that any trade deal before that date will be limited in scope. It will fall far short of a "Grand Compromise" that ushers in a new era of U.S.-China engagement – and hence it will be a disappointment to global equities.
Our trade war probabilities, updated on June 14 to account for the expected resumption of negotiations at the G20, can be found in Diagram 1. The combined risk of further escalation is 68%.
Diagram 1
Trade War Decision Tree (Updated June 13, 2019 To Include G20 Tariff Pause)
The risk to the view? The U.S.-Iran conflict could spiral out of control and the Trump administration could get entangled in the Middle East. This would create a very different outlook for global politics, economy, and markets over the next decade than a concentrated conflict with China.
The Missing Corollary Of The "Thucydides Trap"
The idea of the "Thucydides Trap" has gone viral in recent years – for good reason.
The term, coined by Harvard political scientist Graham Allison, refers to the ancient Greek historian Thucydides (460-400 BC), author of the seminal History of the Peloponnesian War. The "trap" is the armed conflict that most often develops when a dominant nation that presides over a particular world order (e.g. Sparta, the U.S.) faces a young and ambitious rival that seeks fundamental change to that order (e.g. Athens, China).1
This conflict between an "established" and "revisionist" power was highlighted by the political philosopher Thomas Hobbes in his translation of Thucydides in the seventeenth century; every student of international relations knows it. Allison's contribution is the comparative analysis of various Thucydides-esque episodes in the modern era to show how today's U.S.-China rivalry fits the pattern. The implication is that war (not merely trade war) is a major risk.
We have long held a similar assessment of the U.S.-China conflict. It is substantiated by hard data showing that China is gaining on America in various dimensions of power (Chart 1). Assuming that the U.S. does not want to be replaced, the current trade conflict will metastasize to other areas.
There is an important but overlooked corollary to the Thucydides Trap: if the U.S. and China really engage in an epic conflict, American political polarization should fall. Polarization fell dramatically during the Great Depression and World War II and remained subdued throughout the Cold War. It only began to rise again when the Soviet threat faded and income inequality spiked circa 1980. Americans were less divided when they shared a common enemy that posed an existential threat; they grew more divided when their triumph proved to benefit some disproportionately to others (Chart 2).
Chart 1
China Is Gaining On The U.S.
Chart 2
U.S. Polarization Falls During Crisis
If the U.S. and China continue down the path of confrontation, a similar pattern is likely to emerge in the coming years – polarization is likely to decline. China possesses the raw ability to rival or even supplant the United States as the premier superpower over the very long run. Its mixed economy is more sustainable than the Soviet command economy was, and it is highly integrated into the global system, unlike the isolated Soviet bloc. As long as China's domestic demand holds up and Beijing does not suppress its own country's technological and military ambitions, Trump and the next president will face a persistent need to respond with measures to limit or restrict China's capabilities. Eventually this will involve mobilizing public opinion more actively.
Further, if the U.S.-China conflict escalates, it will clarify U.S. relations with the rest of the world. For instance, Trump's handling of trade suggests that he could refrain from trade wars with American allies to concentrate attention on China, particularly sanctions on its technology companies. Meanwhile a future Democratic president would preserve some of these technological tactics while reinstituting the multilateral approach of the Barack Obama administration, which launched the "Pivot to Asia," the Trans-Pacific Partnership, and intensive freedom of navigation operations in the South China Sea. These are all aspects of a containment strategy that would reinforce China's rejection of the western order.
Bottom Line: If the White House, any White House, were to pursue a consistent strategy to contain China, the result would be a major escalation of the trade conflict that would bring Americans together in the face of a common enemy. It would also encourage the U.S. to form alliances in pursuit of this objective. So far these things have not occurred, but they are logical corollaries of the Thucydides Trap and they will occur if the Thucydides thesis is validated.
How Would China Fare In The Thucydides Trap?
China would be in trouble in this scenario. The United States, if the public unifies, would have a greater geopolitical impact than it currently does in its divided state. And a western alliance would command still greater coercive power than the United States acting alone (Chart 3).
External pressure would also exacerbate China's internal imbalances – excessive leverage, pollution, inefficient state involvement in the economy, poor quality of life, and poor governance (Chart 4). China has managed to stave off these problems so far because it has operated under relative American and western toleration of its violations of global norms (e.g. a closed financial system, state backing of national champions, arbitrary law, censorship). This would change under concerted American, European, and Japanese efforts.
Chart 3
China Fears A Western 'Grand Alliance'
Chart 4
China's Domestic Risks Underrated
How would the Communist Party respond? First, it could launch long-delayed and badly needed structural reforms and parlay these as concessions to the West. The ramifications would be negative for Chinese growth on a cyclical basis but positive on a structural basis since the reforms would lift productivity over the long run – a dynamic that our Emerging Markets Strategy has illustrated, in a macroeconomic context, in Diagram 2. This is already an option in the current trade war, but China has not yet clearly chosen it – likely because of the danger that the U.S. would exploit the slowdown.
Diagram 2
Foreign Pressure And Structural Reform = Short-Term Pain For Long-Term Gain
Alternatively the Communist Party could double down on confrontation with the West, as Russia has done. This would strengthen the party's grip but would be negative for growth on both a cyclical and structural basis. The effectiveness of China's fiscal-and-credit stimulus would likely decline because of a drop in private sector activity and sentiment – already a nascent tendency – while the lack of "reform and opening up" would reduce long-term growth potential. This option makes structural reforms look more palatable – but again, China has not yet been forced to make this choice.
None of the above is to say that the West is destined to win a cold war with China, but rather that the burden of revolutionizing the global order necessarily falls on the country attempting to revolutionize it.
Bottom Line: If the Thucydides Trap fully takes effect, western pressure on China's economy will force China into a destabilizing economic transition. China could lie low and avoid conflict in order to undertake reforms, or it could amplify its aggressive foreign policy. This is where the risk of armed conflict rises.
Introducing … The Polybius Solution
The problem with the above is that there is no sign of polarization abating anytime soon in the United States. Extreme partisanship makes this plain (Chart 5). Rising polarization could prevent the U.S. from responding coherently to China. The Thucydides Trap could be avoided, or delayed, simply because the U.S. is distracted elsewhere. The most likely candidate is Iran.
Chart 5
The 2020 Election Will Bring Out Extreme Partisan Furies
A lesser known Greek historian – who was arguably more influential than Thucydides – helps to illustrate this alternative vision for the future. This is Polybius (208-125 BC), a Greek who wrote under Roman rule. He described the rise of the Roman Empire as a result of Rome's superior constitutional system.
Polybius explains domestic polarization whereas Thucydides explains international conflict.
Polybius took the traditional view that there were three primary virtues or powers governing human society: the One (the king), the Few (the nobles), and the Many (the commons). These powers normally ran the country one at a time: a dictator would die; a group of elites would take over; this oligarchy would devolve into democracy or mob-rule; and from the chaos would spring a new dictator.
His singular insight – his "solution" to political decay – was that if a mixture or balance of the three powers could be maintained, as in the Roman republic, then the natural cycle of growth and decay could be short-circuited, enabling a regime to live much longer than its peers (Diagram 3).
Diagram 3
Polybius: A Balanced Political System Breaks The Natural Cycle Of Tyranny And Chaos
In short, just as post-WWII economic institutions have enabled countries to reduce the frequency and intensity of recessions (Chart 6), so Polybius believed that political institutions could reduce the frequency and intensity of revolutions. Eventually all governments would decay and collapse, but a domestic system of checks and balances could delay the inevitable. Needless to say, Polybius was hugely influential on English and French constitutional thinkers and the founders of the American republic.
Chart 6
Orthodox Economic Policy Has Made Recessions Less Frequent And Less Acute
What is the cause of constitutional decay, according to Polybius? Wealth, inequality, and corruption, which always follow from stable and prosperous times. "Avarice and unscrupulous money-making" drive the masses to encroach upon the elite and demand a greater share of the wealth. The result is a vicious cycle of conflict between the commons and the nobles until either the constitutional system is restored or a democratic revolution occurs.
Compared to Thucydides, Polybius had less to say about the international balance of power. Domestic balance was his "solution" to unpredictable outside events. However, states with decaying political systems were off-balance and more likely to be conquered, or to overreach in trying to conquer others.
Bottom Line: The "Polybius solution" equates with domestic political balance. Balanced states do not allow the nation's leader, the elite, or the general population to become excessively powerful. But even the most balanced states will eventually decline. As they accumulate wealth, inequality and corruption emerge and cause conflict among the three powers.
Why Polybius Matters Today
It does not take a stretch of the imagination to apply the Polybius model to the United States today. Just as Rome grew fat with its winnings from the Punic Wars and decayed from a virtuous republic into a luxurious empire, as Polybius foresaw, so the United States lurched from victory over the Soviet Union to internal division and unforced errors.
For instance, the budget surplus of 2% of GDP in the year 2000 became a budget deficit of 9% of GDP after a decade of gratuitous wars, profligate social spending and tax cuts, and financial excesses. It is on track to balloon again when the next recession hits – and this is true even without any historic crisis event to justify it.
The rise in polarization has coincided with a rise in wealth inequality, much as Polybius would expect (Chart 7). In all likelihood the Trump tax cuts will exacerbate both of these trends (Chart 8). Even worse, any attempts by "the people" to take more wealth from the "nobles" will worsen polarization first, long before any improvements in equality translate to a drop in polarization.
Chart 7
Polarization Unlikely To Drop While Inequality Rises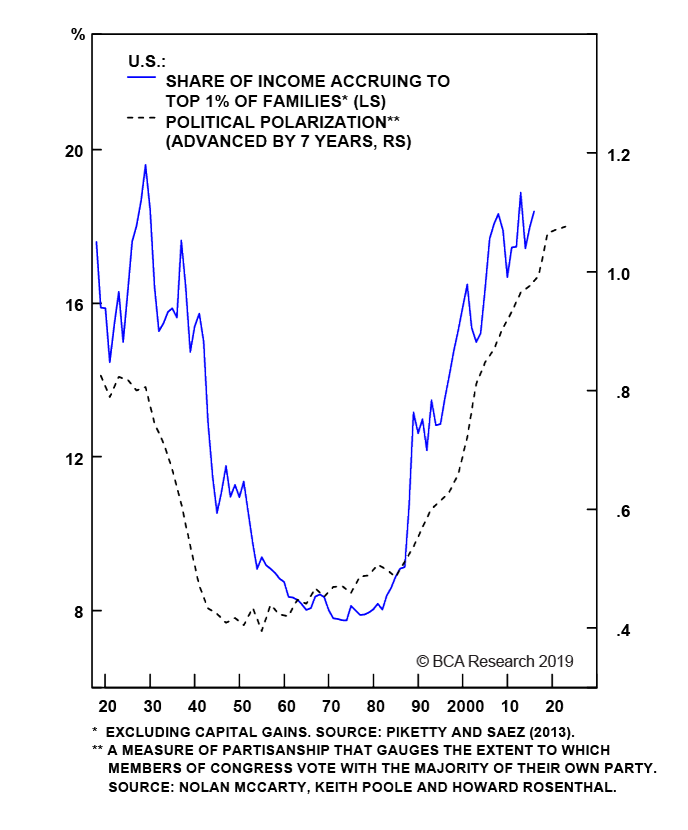 Chart 8
Trump Tax Cuts Fuel Inequality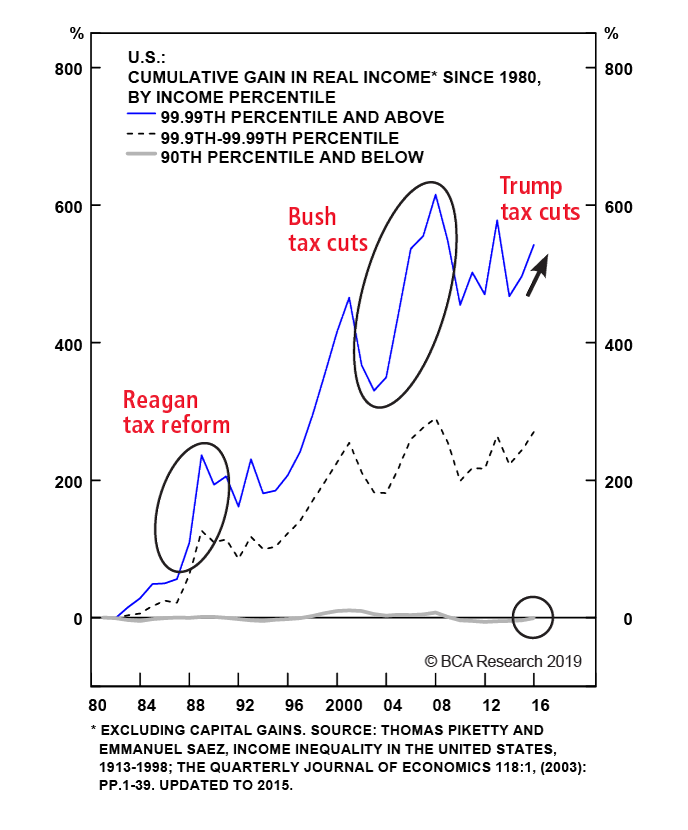 Most importantly, from a global point of view, U.S. polarization is contaminating foreign policy.
Just as the George W. Bush administration launched a preemptive war in Iraq, destabilizing the region, so the Obama administration precipitously withdrew from Iraq, destabilizing the region. And just as the Obama administration initiated a hurried détente with Iran in order to leave Iraq, the Trump administration precipitously withdrew from this détente, provoking a new conflict with Iran and potentially destabilizing Iraq. Major foreign policy initiatives have been conducted, and revoked, on a partisan basis under three administrations. And a Democratic victory in 2020 would result in a reversal of Trump's initiatives.
In the meantime Trump's policy could easily entangle him in armed conflict with Iran – as nearly occurred on June 21. Iranian domestic politics make it very difficult, if not impossible, to go back to the 2015 setting. Despite Trump's recent backpedaling, his administration runs a high risk of getting sucked into another Middle Eastern quagmire as long as it enforces the sanctions on Iranian oil stringently.
Persian Gulf risks are coming to the fore. But over the next six-to-18 months, U.S.-China conflict will be the dominant market-mover.
China would be the big winner if such a war occurred, just as it was one of the greatest beneficiaries of the long American distraction in Afghanistan and Iraq. It would benefit from another 5-10 years of American losses of blood and treasure. It would be able to pursue regional interests with less Interference and could trade limited cooperation with the U.S. on Iran for larger concessions elsewhere. And a nuclear-armed Iran – which is a long-term concern for the U.S. – is not in China's national interest anyway.
Chart 9
Will The Pivot To Asia Reverse?
Bottom Line: The U.S. is missing the "Polybius solution" of balanced government; polarization is on the rise. As a result, the grand strategy of "pivoting to Asia" could go into reverse (Chart 9). If that occurs, the conflict with China will be postponed or ineffective.
Iran Is The Wild Card
A war with Iran manifestly runs afoul of the Trump administration's and America's national interests, whereas a trade war with China does not.
First, although an Iranian or Iranian-backed attack on American troops would give Trump initial support in conducting air strikes, the consequences of war would likely be an oil price shock that would sink his approval rating over time and reduce his chances of reelection (Chart 10). We have shown that such a shock could come from sabotage in Iraq as well as from attacks on shipping in the Strait of Hormuz. Iran could be driven to attack if it believes the U.S. is about to attack.
Second, not only would Democrats oppose a war with Iran, but Americans in general are war-weary, especially with regard to the Middle East (Chart 11). President Trump capitalized on this sentiment during his election campaign, especially in relation to Secretary Hillary Clinton who supported the war in Iraq. Over the past two weeks, he has downplayed the Iranian-backed tanker attacks, emphasized that he does not want war, and has ruled out "boots on the ground."
Chart 10
Carter Gained Then Lost From Iran Oil Shock
Chart 11
Americans Weary Of War
Third, it follows from the above that, in the event of war, the United States would lack the political will necessary to achieve its core strategic objectives, such as eliminating Iran's nuclear program or its power projection capabilities. And these are nearly impossible to accomplish from the air alone. And U.S. strategic planners are well aware that conflict with Iran will exact an opportunity cost by helping Russia and China consolidate spheres of influence.
The wild card is Iran. President Hassan Rouhani has an incentive to look tough and push the limits, given that he was betrayed on the 2015 deal. And the regime itself is probably confident that it can survive American air strikes. American military strikes are still a serious constraint, but until the U.S. demonstrates that it is willing to go that far, Iran can test the boundaries. In doing so it also sends a message to its regional rivals – Saudi Arabia, the Gulf Arab monarchies, and Israel – that the U.S. is all bark, no bite, and thus unable to protect them from Iran. This may lead to a miscalculation that forces Trump to respond despite his inclinations.
The China trade war, by contrast, is less difficult for the Trump administration to pursue. There is not a clear path from tariffs to economic recession, as with an oil shock: the U.S. economy has repeatedly shrugged off counter-tariffs and the Fed has been cowed. While Americans generally oppose the trade war, Trump's base does not, and the health of the overall economy is far more important for most voters. And a majority of voters do believe that China's trade practices are unfair. Strategic planners also favor confronting China – unlike Trump they are not concerned with reelection, but they recognize that China's advantages grow over time, including in critical technologies.
Bottom Line: While short-term events are pushing toward truce with China and war with Iran, the Trump administration is likely to downgrade the conflict with Iran and upgrade the conflict with China over the next six-to-18 months. Neither politics nor grand strategy support a war with Iran, whereas politics might support a trade war with China and grand strategy almost certainly does.
China Could Learn From Polybius Too
China also lacks the Polybius solution. It suffers from severe inequality and social immobility, just like the Latin American states and the U.S., U.K., and Italy (Chart 12). But unlike the developed markets, it lacks a robust constitutional system. Political risks are understated given the emergence of the middle class, systemic economic weaknesses, and poor governance. Over the long run, Xi Jinping will need to step down, but having removed the formal system for power transition, a succession crisis is likely.
Chart 12
China's Inequality Is Extreme
China's imbalances could cause domestic instability even if the U.S. becomes distracted by conflict in the Middle East. But China has unique tools for alleviating crises and smoothing out its economic slowdown, so the absence of outside pressure will probably determine its ability to avoid a painful economic slump.
This helps to explain China's interest in dealing with the U.S. on North Korea. President Xi Jinping's first trip to Pyongyang late last month helped pave the way for President Trump to resume negotiations with the North's leader Kim Jong Un at the first-ever visit of an American president north of the demilitarized zone (DMZ). China does not want an unbridled nuclear North Korea or an American preventative war on the peninsula. If Beijing could do a short-term deal with the U.S. on the basis of assistance in reining in North Korea's nuclear and missile programs, it could divert U.S. animus away from itself and encourage the U.S. to turn its attention toward the next rogue nuclear aspirant, Iran. It would also avoid structural economic concessions.
Of course, a smooth transition today means short-term gain but long-term pain for Chinese and global growth. Productivity and potential GDP will decline if China does not reform (Diagram 4). But this kind of transition is the regime's preferred option since Beijing seeks to minimize immediate threats and maintain overall stability.
Diagram 4
Stimulus And Delayed Reforms = Socialist Put = Stagflation
If Chinese internal divisions do flare up, China's leaders will take a more aggressive posture toward its neighbors and the United States in order to divert public attention and stir up patriotic support.
Bottom Line: China suffers from understated internal political risk. While U.S. political divisions could lead to a lack of coherent strategy toward China, a rift in China could lead to Chinese aggression in its neighborhood, accelerating the Thucydides Trap.
Investment Conclusions
Chart 13
An Iran War Will Bust The Budget
If the U.S. reverses the pivot to Asia, attacks Iran, antagonizes European allies, and exhausts its resources in policy vacillation, its budget deficit will balloon (Chart 13), oil prices will rise, and China will be left to manage its economic transition without a western coalition against it. The implication is a weakening dollar, at least initially. But the U.S. is nearing the end of its longest-ever business expansion and an oil price spike would bring forward the next recession, both of which will push up the greenback. Much will depend on the extent of any oil shock – whether and how long the Strait of Hormuz is blocked. Beyond the next recession, the dollar could suffer severe consequences for the U.S.'s wild policies.
If the U.S. continues the pivot to Asia, and the U.S. and China proceed with tariffs, tech sanctions, saber-rattling, diplomatic crises, and possibly even military skirmishes, China will be forced into an abrupt and destabilizing economic transition. The U.S. dollar will strengthen as global growth decelerates. Developed market equities will outperform emerging market equities, but equities as a whole will underperform sovereign bonds and other safe-haven assets.
Over the past week, developments point toward the former scenario, meaning that Persian Gulf risks are coming to the fore. But over the next six-to-18 months, we think the latter scenario will prevail.
We are maintaining our risk-off trades: long JPY/USD, long gold, long Swiss bonds, and long USD/CNY.
Matt Gertken, Vice President
Geopolitical Strategist
mattg@bcaresearch.com
Footnotes
1 See Graham Allison, "The Thucydides Trap: Are The U.S. And China Headed For War?" The Atlantic, September 24, 2015, and Destined For War: Can America and China Escape Thucydides's Trap? (New York: Houghton Mifflin Harcourt, 2017).