Highlights
Dear Client,
I'm on the road this week teaching the BCA Academy in Chicago. Instead of our regular Weekly Report, we are sending you a Special Report written by my colleague Juan Manuel Correa. His piece, "Riding the Wave: Momentum Strategies in Foreign Exchange Markets," focuses on the application of momentum strategies in the FX space. More specifically, Juan lays out the case that momentum is now pointing to upside in the U.S. dollar. I trust you find his report both informative and enjoyable.
Best regards,
Mathieu Savary, Vice President, Foreign Exchange Strategy
Feature
Merchant: In this chaos of opinions, which is the most prudent?
Shareholder: To go in the direction of the waves, and not fight against powerful currents
- Confusion de Confusiones, Joseph de la Vega, 1688.
Since the invention of financial markets, momentum has captivated the minds of investors, economists and general speculators. As early as 1688, the Spanish merchant Jose de la Vega became the first market observer to document the powerful forces of momentum in the primitive financial markets of Amsterdam.1 Since then, a number of academic studies have confirmed that momentum strategies deliver significant excess returns, even when traditional risk factors are taken into account.2 Because the success of momentum flies in the face of the Efficient Market Hypotheses, academia has tried to understand this phenomenon. Transaction costs, short-selling constraints and unsophisticated market participants have been among some of the explanations advanced and more widely accepted. However, there is still no real consensus as to why momentum strategies work.
Foreign exchange markets present themselves as a fascinating space to study momentum, given that FX markets are:3
a) Very liquid, and possess very low transaction costs;
b) Include no short selling constraints;
c) Are populated by very sophisticated investors.
So how successful are momentum strategies in foreign exchange markets? More specifically: In what time frame does momentum work best? In which currencies or crosses are momentum strategies more effective? Are there any macroeconomic factors that influence the success of a momentum strategy?
Generally, momentum in financial markets is defined as the positive correlation between past and future returns. Momentum can either refer to time series momentum (buy/sell a currency which has had positive/negative returns) or cross-sectional momentum (buy the best-performing currencies and sell the worst-performing currencies). In this report, we will focus on time-series momentum.
We use moving average crossovers to generate signals. We chose this technique as it is commonly used by practitioners, and it provides an easy and flexible buy/sell signal. When a short-term moving average crosses a long-term one from below, we buy the cross. Conversely, when it crosses it from above, we short the cross. While it is true that this technique does not follow the strict definition of momentum, it is a close enough proxy, as it takes into account the relative acceleration of the price.
Furthermore, we tested 15 different combinations of moving averages on all 45 crosses in the G10, on a sample of nearly 29 years. By doing this we do not bias our analysis to dollar pairs or to any particular strategy. For more details on the methodology, please see Appendix A.
Wave Watching: Observations On Historical Returns
Our strategies consist of 15 different combinations of 1-month, 2-month, 3-month, 6-month, 12-month and 24-month moving averages. On average, momentum strategies had an annualized spot return of 0.5% and a carry return of 0.9% from when our sample period started in January 1989 to its end in October 2017 (Chart I-1). Furthermore, most strategies provided positive returns on average (see Appendix B) while substantially decreasing drawdowns (see Appendix D, Table 1).
Chart I-1
Momentum Across History
However, some strategies performed better than others. On average, we found that momentum strategies based on the "medium-term" - i.e. when the slower of the two moving averages necessary to generate the crossovers was either 130-days (6-months) or 260-days (12-months) - tended to perform best.
In terms of nomenclature in our comparative study, we named each strategy by summing the number of days in the faster moving average and the slower one. The resulting number is the total amount of days considered by the strategy. This way shorter term-focused strategies have lower numbers while longer-term focused strategies have higher numbers (Appendix A, Table 1).
We found that risk-adjusted returns for strategies focused on the short term tend to be low: they rise as strategies become more focused on medium-term horizons, and then they drop again when longer term moving-average crossovers are used, following a "hump" pattern (Chart I-2). This pattern holds across the majority of FX crosses (see Appendix C).
Our results are consistent with the literature on momentum on other assets classes. Generally, short-term returns tend to be reverting: if an asset's return last month was positive it will likely be negative the following month. The reversal effect tends to also be present in the long-term: if an asset experienced strong positive returns on a multi-year horizon, it is likely to offer negative returns in the subsequent time period. On the other hand, positive return auto correlation, the staple of traditional momentum strategies, tends to be strongest in medium-term time frames.4
Next, we examined the carry component of the strategies. On average, momentum strategies are long carry currencies slightly more often than not, and vice versa with funding currencies. As a result, momentum strategies tend to generate a positive carry (Chart I-3).
Chart I-2
Medium Term Focused Strategies
Perform Best
Chart I-3
Momentum Strategies Favor
Carry Currencies...
This result is robust across strategies and across currency pairs (see Appendix B & C). Of the 675 different return indexes generated by our various moving average crossover signals, only 108 had a negative carry.
So, are momentum strategies and carry strategies one and the same? Not quite. When we tested the correlation between the returns of our G10 carry strategy Index and the returns of all 15 of our momentum indexes, we found it to be nearly zero.
Furthermore, we found that the spot returns of momentum strategies tended to increase in periods of increasing G10 implied volatility (Chart I-4). This stands in stark contrast to carry strategies, which are allergic to any increase in volatility.5
Chart I-4
...But Momentum Also Likes Volatility
We also tested for which crosses momentum strategies worked best. We found that commodity crosses tend to be the worst performers, with the least reliable and least rewarding signals. Meanwhile, pairs involving the yen or the U.S. dollar in one of the legs tended to perform the best by a wide margin, in both spot terms and carry terms (Chart I-5).
Chart I-5A
Momentum Winners:
USD And JPY Crosses
Chart I-5B
Momentum Winners:
USD And JPY Crosses
Bottom Line: Historically, momentum strategies have provided positive returns. However, medium term-focused strategies tend to perform best. Momentum strategies also tend to produce positive carry, even though their spot return rises along with volatility. Finally, crosses involving a USD or JPY leg tend to provide the best momentum returns.
Characteristics Of Momentum: Wave Patterns And Surfing Lessons
We opted to take an unconventional approach from the plethora of academic research trying to understand momentum. However, to do so, we needed to momentarily step away from financial markets and instead dive in another field where riding waves is paramount: surfing.
Diagram 1
Oceanic Wave Patters
Oceanic waves are produced by the wind. When wind blows across the surface of the ocean, the force is transferred to the water and generates swell, which is a group of travelling waves.6 However not all swell is created equally. There are two main types of swell: groundswell and windswell.
Groundswell is the result of powerful winds or storms thousands of miles away from shore. These strong storm systems far away in the ocean tend to generate smooth and infrequent waves. These are the best waves for surfing, as these waves create enough power for a surfer to gain great balance and thus, ride the wave for a long period of time (Diagram 1 - Top Panel).
On the other hand, windswell refers to swell created by local winds. These local winds tend to generate smaller waves and choppy waters, which makes for lower-quality surfing (Diagram 1 - Bottom Panel).
This insight from surfing can be translated to financial markets. Much like a surfer at the beach, a momentum player would prefer smooth waves in the currencies he or she trades, as these types of waves can provide consistent signals that he or she can take advantage of. We therefore tested whether currencies that behave like groundswell tend to have higher risk-adjusted momentum returns than currencies that behave like windswell.
How can we test this numerically? We found that volatility is not the right measure to capture this particular wave pattern, as it does not account for smoothness (see Appendix D). Instead, we measured smoothness by calculating a cross's average 1-year fractal dimension,7 a modification of an indicator championed by BCA's European Investment Strategy's Dhaval Joshi. A low average fractal dimension over that 1-year window indicates that more often than not a cross has been following a smooth trend, while an elevated fractal dimension indicates a cross that has been range-bound.8 We invert this number, giving higher numbers to smoother, trending crosses and lower numbers to jagged, noisy crosses. We call this the "Wave Smoothness Indicator," and it turns out to be highly correlated to risk-adjusted momentum returns for crosses in the G10, particularly if we take out managed crosses like EUR/CHF, EUR/SEK, and EUR/NOK (Chart I-6).
To further illustrate this point, we sorted all crosses by their median risk-adjusted returns across all the moving-average crossover strategies we tested. We then looked at the five crosses where our momentum strategies delivered the higher risk-adjusted returns against the five crosses where the strategies fared the worst (Chart I-7A & Chart I-7B). The best currencies to execute momentum strategies have long and smooth cycles, while the worst ones exhibit much more noise.
Chart I-6
Wave Dynamics And Momentum Returns
Chart I-7A
Groundswell: Paradise For Momentum Surfers
Chart I-7B
Windswell: No Wave Riding In Choppy Waters
As a result, it is apparent that smoothness is a crucial factor behind successful momentum trading, at least in the FX space. For example, while AUD/NZD displays long cycles, these gyrations are not smooth. Consequently, moving-average crossover strategies work badly for this cross, as it is too noisy to provide reliable buy/sell signals.
Bottom Line: Analogous to the dynamic between surfers and oceanic waves, currencies that have long and smooth cycles (groundswell) tend to provide better returns than currencies which have small and noisy cycles (windswell).
Storm Warning: Macro Determinants Of Momentum
What factors make a currency behave more like groundswell as opposed to windswell?
In order to gain some understanding, let's look at the crosses where momentum strategies worked best in our sample: the USD crosses and the JPY crosses. The yen and the dollar experience such strong and broad-based trends that for any cross, simply being correlated to the trade-weighted dollar and the trade-weighted yen makes for a good predictor of whether this currency pair will experience strong momentum-continuation behavior. Moreover, in line with our results above, crosses with a high correlation to these currencies also tend to exhibit stronger groundswell patterns (Chart I-8).
What is so special about the dollar and the yen? The oceanic waves once again offer a clue. Recall that groundswell is generated by powerful oceanic storms. Similarly, the trade-weighted dollar and yen are ultra-sensitive to two of the most powerful forces in the global economy: global trade dynamics and global risk aversion (Chart I-9).
Chart I-8
JPY And USD Determine Wave
Patterns In Currency Markets
Chart I-9
The Powerful Winds Of
The Global Economy
Global trade and risk aversion generate strong and well-defined waves, which makes any cross that is highly correlated to them fertile ground for implementing momentum strategies. Moreover, due to their sheer strength, these economic forces are subject to extremely strong feedback loops that reinforce the groundswell pattern present in "momentum" currencies.
How exactly do these feedback loops work?
Let's begin with the USD. The U.S. economy has a low beta to global growth, as it is a relatively closed economy where manufacturing represents a small share of both employment and gross value-added. Thus, when global trade accelerates, the U.S. economy does not benefit as much as other large blocs, and the dollar depreciates (Chart I-10). However, a fall in the dollar also helps global trade, as the world economy, particularly EM economies, carry large liabilities in U.S. dollars. Thus, when the dollar falls, the cost of financing global trade decreases, which in turn generates more trade, more investment, and more growth. This is a very powerful feedback loop.
Although related, the yen cycle is slightly different, as it is more related to risk aversion and liquidity, given that the yen is the funding currency of choice for carry traders. When global economic activity is strong, carry trades distribute funds from places where liquidity is plentiful like Japan to places that offer high-return at the cost of higher risk (Chart I-11). So long as returns are elevated in the nations sporting high-carry currencies, more liquidity flows into these economies, supporting additional growth and returns. However, this virtuous cycle can become a vicious one when volatility rises, as liquidity can be quickly drained when Japanese investors repatriate home funds from abroad, and carry traders close their positions, selling the high-carry currency and covering their shorts in the funding ones. This not only appreciates the yen relatively to riskier currencies but also worsens the economic outlook and return profile of the carry currencies.9
Chart I-10
The U.S. Economy Is Less
Sensitive To Global Growth
Chart I-11
Japan Is The World's
Provider Of Liquidity
These dynamics also explain why momentum strategies tend to be more frequently long-carry currencies than funding ones. Simply put, risk-on cycles tend to be longer than risk-off ones. Chart I-12 shows how momentum strategies tend to overweight funding currencies on the rare occasions when volatility spikes, which makes their spot returns higher than their carry returns during those instances. On the other hand, when volatility is low, momentum strategies buy carry currencies, adding an additional benefit beyond their spot returns.
Chart I-12
Momentum Overweighs Carry More Often,
Because Greed Is More Common Than Fear
Meanwhile, risk-off cycles may be short-lived but they tend to be very intense. Thus, buying the funding currencies as they start generating higher momentum can deliver very quick, very powerful gains. This also helps elucidate the seeming paradox whereby momentum trades in the FX space see an accelerating pace of gains when volatility rises. This makes momentum strategies more agile than carry strategies.
Importantly, understanding the link between momentum and the exposure to global factors like global trade as well as risk aversion explains why pairs where both legs of the cross are commodity currencies perform so badly as momentum plays. Much like windswell is generated by local winds, crosses from commodity producers like AUD/NOK or AUD/NZD have a diminished sensitivity to global factors, and instead are mostly driven by relative commodity dynamics or even relative domestic dynamics - forces akin to a localized wind system.
With all of the above considered, we conclude the following:
In the G10 currency space, momentum strategies will provide high profits on crosses that are driven by powerful systematic forces, and will provide lower returns from crosses driven by more idiosyncratic forces.
It thus seems that an investor profiting from momentum in the FX space is not exploiting a market inefficiency, in the strictest academic terms, but rather a fundamental trait of each currency.
Finally, we are not suggesting moving-average crossovers are the only mean to generate momentum-based buy and sell signals for currencies. But MA crossovers are a simple yet powerful indicator that provides timing signals in the foreign exchange market.
Bottom Line: Currencies that are driven by powerful systematic forces will provide better momentum returns than currencies driven by weak idiosyncratic forces. Global forces like trade dynamics and risk aversion will generate groundswell-like wave patterns that are optimal for momentum strategies.
Investment Implications
Based on the observations made in this report, we have created a list of five rules of thumb for investors to consider when using momentum in currency markets:
When using moving averages to assess momentum, the slower of the two moving averages should have a rolling window between 6-months and 12-months in order to generate superior signals. This gives credence to the commonly used 200-day moving average. Meanwhile, the faster of the moving averages should not exceed 3-months.
Currencies that have long, powerful and smooth cycles (groundswell) will tend to provide better returns that currencies that have short, choppy and weak cycles (windswell).
Moreover, currencies with a groundswell pattern will tend to be driven by powerful systematic factors, while currencies with a windswell pattern will be driven by weaker idiosyncratic factors.
More specifically, investors should try to capture momentum in global risk aversion and global trade.
The currencies that best follow these criteria are the JPY and USD crosses.
What is momentum telling us now?
The financial world continues to be in a risk-on mood. As glee rather than fear has taken hold of investors, momentum continues to point to further downside in the yen (Chart I-13).
Chart I-13
Plentiful Liquidity Is Supporting Momentum
In This Risk-On Environment...
Chart I-14
...But Global Growth Is
Starting To Peak
On the other hand, momentum seems to be favoring the dollar right now. Global trade is very strong, but signs are accumulating that it may begin to slow after a spectacular couple of years. The faster moving 1-month/6-month moving-average crossover signals that the dollar is a buy, while the 1-month/200-day is also relatively close (Chart I-14). This means that at the very least, investors should be reducing their short dollar exposures.
Juan Manuel Correa, Research Analyst
juanc@bcaresearch.com
Mathieu Savary, Vice President
Foreign Exchange Strategy
mathieu@bcaresearch.com
1

Gray, Wesley R., and Jack R. Vogel. "Quantitative Momentum a Practitioner's Guide to Building a Momentum-Based Stock Selection System." Quantitative Momentum a Practitioner's Guide to Building a Momentum-Based Stock Selection System, Wiley, 2016.

2

Jegadeesh, Narasimhan and Sheridan Titman, "Returns to Buying Winners and Selling Losers: Implications for Stock Market Efficiency" Journal of Finance, 48(1): 65-91 (1993)

3

Lukas Menkhoff, Lucio Sarno, Maik Schmeling and Andreas Schrimpf, "Currency Momentum Strategies" (2011)

4

Gray, Wesley R., and Jack R. Vogel. "Quantitative Momentum a Practitioner's Guide to Building a Momentum-Based Stock Selection System." Quantitative Momentum a Practitioner's Guide to Building a Momentum-Based Stock Selection System, Wiley, 2016.
5 Please see Foreign Exchange Strategy Special Report, titled "

Carry Trades: More than Pennies And Steamrollers

", dated May 6, 2016, available at fes.bcaresearch.com

6

"Wave Energy, Decay and Direction." Surfline.com, 2017,

www.surfline.com/surfology/surfology_forecast_index.cfm

.
7 Bruno, R. and Raspa, G. (1989). Geostatistical characterization of fractal models of surfaces. In Geostatistics, Vol. 1 (M. Armstrong, ed.) 77-89. Kluwer, Dordrecht.
8 For more insights into application of fractals in finance please see European Investment Strategy Special Report, titled "

Fractal Dimension And Market Turning Points

", dated July 24, 2014, available at eis.bcaresearch.com

9

For a more detailed discussion of how carry trades generate virtuous and vicious circles in the economies of high-carry currencies, please see Foreign Exchange Strategy Weekly Report, titled "

Canaries In The Coal Mine Alert: EM/JPY Carry Trades

", dated December 1, 2017, available at fes.bcaresearch.com
Appendix A: Methodology
Appendix A
Formula 1
Table 1
Days Used By Each Strategy
Appendix B: Momentum By Strategy
Chart II-1A
1-Month/2-Month Momentum Strategy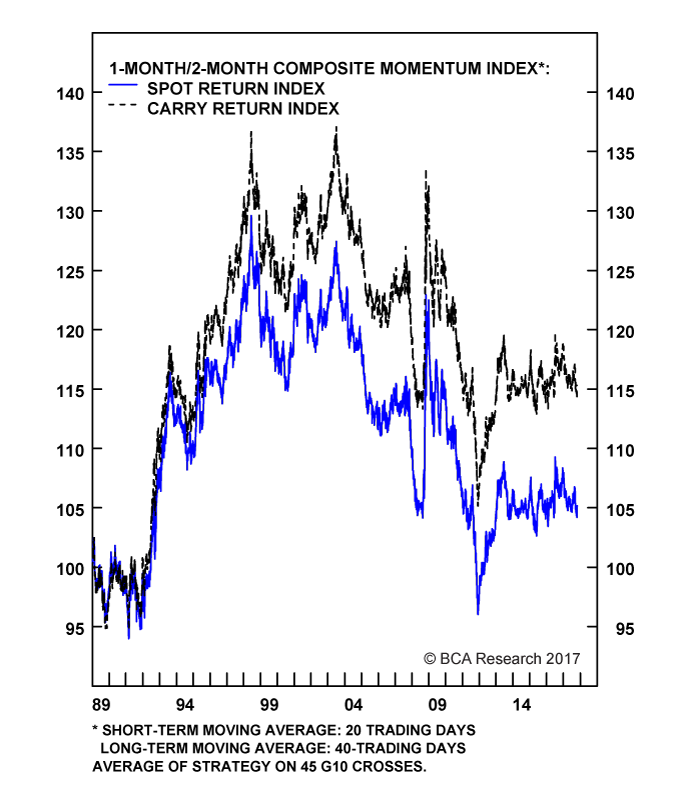 Chart II-1B
1-Month/2-Month Momentum Strategy
Chart II-2A
1-Month/3-Month Momentum Strategy
Chart II-2B
1-Month/3-Month Momentum Strategy
Chart II-3A
1-Month/6-Month Momentum Strategy
Chart II-3B
1-Month/6-Month Momentum Strategy
Chart II-4A
1-Month/12-Month Momentum Strategy
Chart II-4B
1-Month/12-Month Momentum Strategy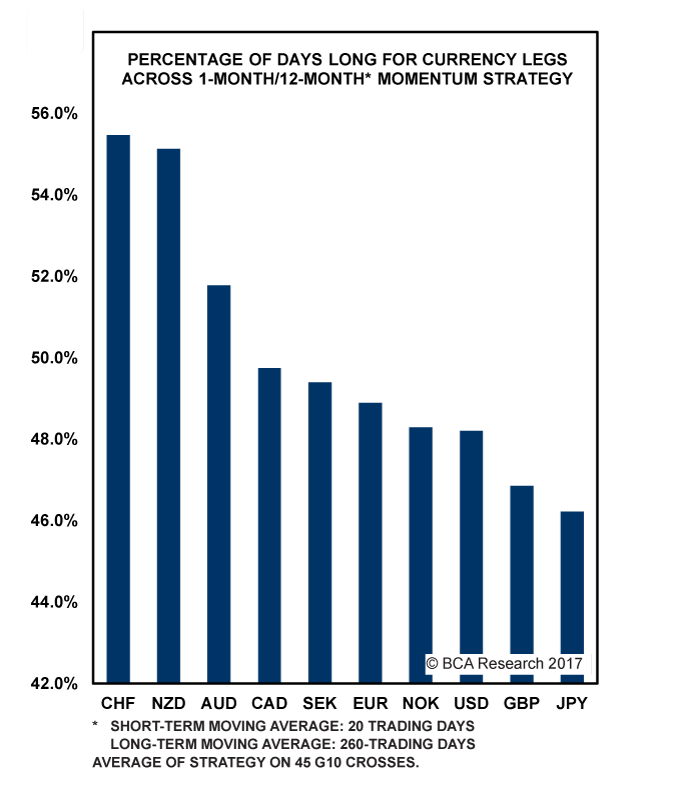 Chart II-5A
1-Month/24-Month Momentum Strategy
Chart 5B
1-Month/24-Month Momentum Strategy
Chart II-6A
2-Month/3-Month Momentum Strategy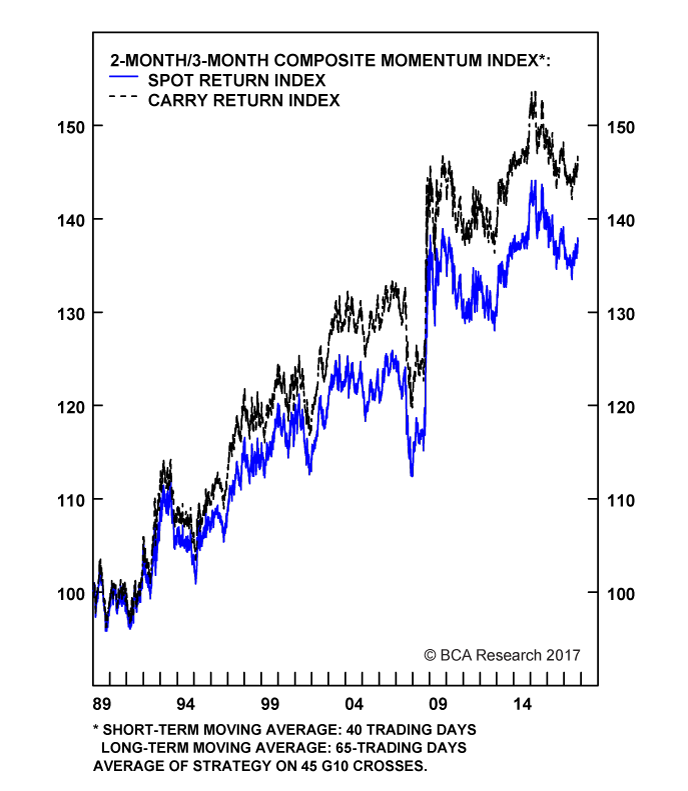 Chart II-6B
2-Month/3-Month Momentum Strategy
Chart II-7A
2-Month/6-Month Momentum Strategy
Chart II-7B
2-Month/6-Month Momentum Strategy
Chart II-8A
2-Month/12-Month Momentum Strategy
Chart II-8B
2-Month/12-Month Momentum Strategy
Chart II-9A
2-Month/24-Month Momentum Strategy
Chart II-9B
2-Month/24-Month Momentum Strategy
Chart II-10A
3-Month/6-Month Momentum Strategy
Chart II-10B
3-Month/6-Month Momentum Strategy
Chart II-11A
3-Month/12-Month Momentum Strategy
Chart II-11B
3-Month/12-Month Momentum Strategy
Chart II-12A
3-Month/24-Month Momentum Strategy
Chart II-12B
3-Month/24-Month Momentum Strategy
Chart I-13A
6-Month/12-Month Momentum Strategy
Chart II-13B
6-Month/12-Month Momentum Strategy
Chart II-14A
6-Month/24-Month Momentum Strategy
Chart II-14B
6-Month/24-Month Momentum Strategy
Chart 15A
12-Month/24-Month Momentum Strategy
Chart II-15B
12-Month/24-Month Momentum Strategy
Appendix C: Momentum By Currency Legs
Chart III-1
Chart III-2
Chart III-3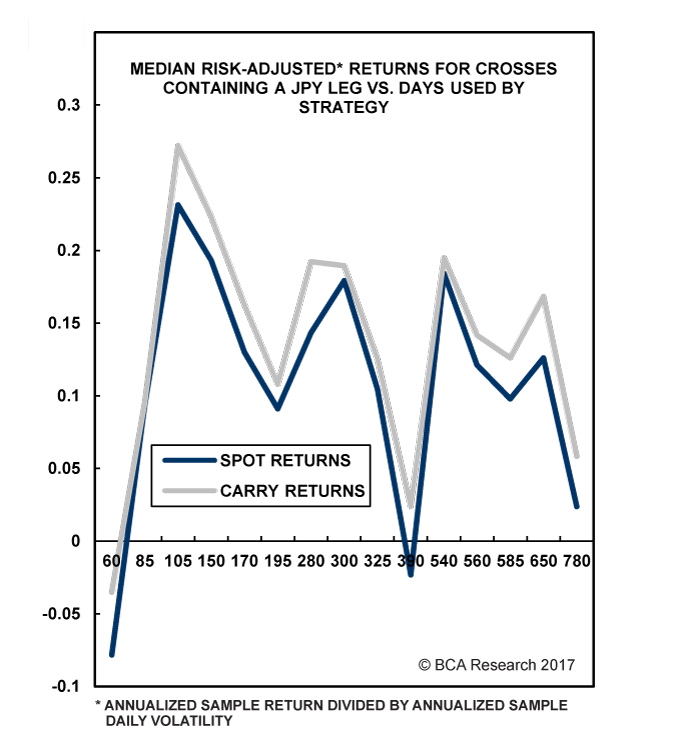 Chart III-4
Chart III-5
Chart III-6
Chart III-7
Chart III-8
Chart III-9
Chart III-10
Appendix D: Other Data
Chart IV-1
Volatility Does Not Fully Explain
Momentum Returns
Chart IV-2
Volatility Does Not Fully Explain
Momentum Returns
Table 1
Worst Sample 1-Month Return